Home
> Reading Music
Reading Music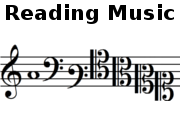 Reading Music is an free application to learn to read music.

Keys available:

- Treble Key (G2)
- Bass Key (F4)
- Baritone Key (F3)
- Tenor Key (C4)
- Alto Key (C3)
- Mezzo-soprano (C2)
- Soprano (C1)

How to play?

Notes appears on the staff and you should click on the right answer (on the right button bellow the staff)

With settings you can:

- Display colored notes and colored button to learn better.
- See the right answer when you are wrong.
- Choose one of the 7 keys available.
- Choose the difficulty from ver very easy to very very hard.
- Choose the number of answer and the display duration.
- Choose if you want A, B, C, D, E, F, G or do, ré, mi, fa, sol, la, si.
- Have vibration on wrong answers.